Yesterday, Earthsound Archaeological Geophysics had the pleasure of returning to Athy in County Kildare to carry out magnetometry and electromagnetic induction surveys at Woodstock Castle. This is the latest in a number of projects that we have carried out in Athy over the past few years, which have included geophysical and LiDAR investigations of the historic Town Walls and Black Castle Tower which have been a part of the ongoing efforts of the Athy Heritage Centre-Museum to inform locals and visitors alike on the wonderful history of their town!

Cian Hogan and Darren Regan of the Earthsound Field Division braved a cold October morning to survey the environs of the castle. Darren was filmed for a short video that documented the surveys for the benefit of the local national school.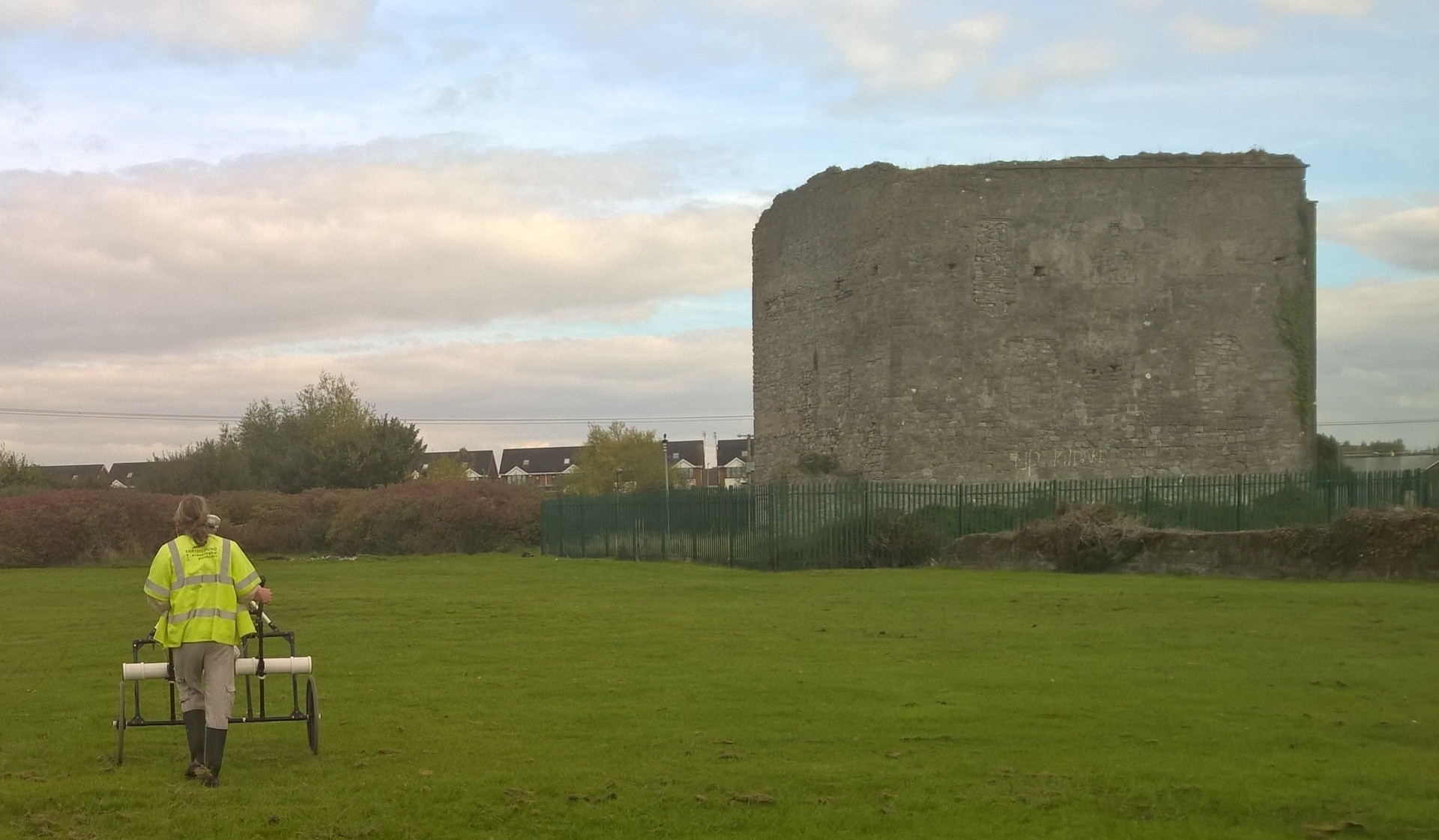 We love returning to Athy each year to add a little bit more knowledge to the development of this important medieval town and this is just the latest in a long line of projects for the Athy Heritage Centre-Museum!
Since the year 2013, Earthsound have had an ongoing relationship with the Athy Heritage Centre-Museum in connection with The South Kildare Medieval Heritage Project on a variety of projects which encompass geophysical surveys, historical research and public outreach campaigns.  The first project we engaged in involved a number of geophysical surveys in order to detect the location and morphology of the historic town halls, an investigation we returned to again in another area of the town in October of 2016. The work carried out in October 2016 involved the use of Ground Penetrating Radar and led to the discovery of a number of significant anomalies such as possible walls, defensive structures and remains associated with a mortuary site.
As part of these ongoing projects, Earthsound has spoken and given demonstrations at a number of community activities based in the town in order to explain the work we have carried out and to hopefully give a greater understanding to the residents of the archaeological and historical heritage that surrounds them.
Athy is part of the Irish Walled Towns Network and Earthsound have undertaken similar studies on Cashel Walled Town and Castledermot Walled Town.