Project: Kilfinnane Motte – Adopt A Monument
Location: Kilfinnane, Co. Limerick
Year: 2017
Client: Kilfinnane Community Council
Funding: The Heritage Council – Adopt A Monument
At the start of November Earthsound headed down to the village of Kilfinnane in Limerick. This quiet village hosts one of the most impressive monuments to be seen in the Irish landscape – a lofty motte, rising to 12m in height, surrounded by a series of imposing banks and ditches.
Standing atop the motte, sweeping views are given of the surrounding landscape – taking in Keale Mountain to the south, the Ballyhoura Hills to the southwest, the Galtee Mountains to the east, and a rolling countryside to the north.

View looking south from on top of the monument – Galtee Mountains on the left, Keale Mountain on the right and Ursula with the EM cart (Photo: C. Hogan)
This monument has been adopted by a community council and Tommy O'Sullivan acted as liaison for us. He, along with other enthusiastic locals, were able to fill us in with a great amount of detail of 'The Moats' recent background and older history.
Little is known about the history of the monument and there are very few other monuments recorded in its immediate vicinity. A standing stone is located in an adjacent field. The Kilfinnane Community Council has made great efforts to assemble of huge range of historical documents, local knowledge and folklore to create a greater understanding of the landscape – and the geophysical survey is another step towards this.
A broad survey was undertaken of the lands surrounding the motte. The site was investigated using an eight-probe magnetometry system and an electromagnetic instrument. The aim of the survey was to identify any associated anomalies, perhaps a bailey, or other unknown anomalies. The magnetometry covered the entirety of the survey area, whereas the EM was used to target the area adjacent to the banks and topographic features elsewhere.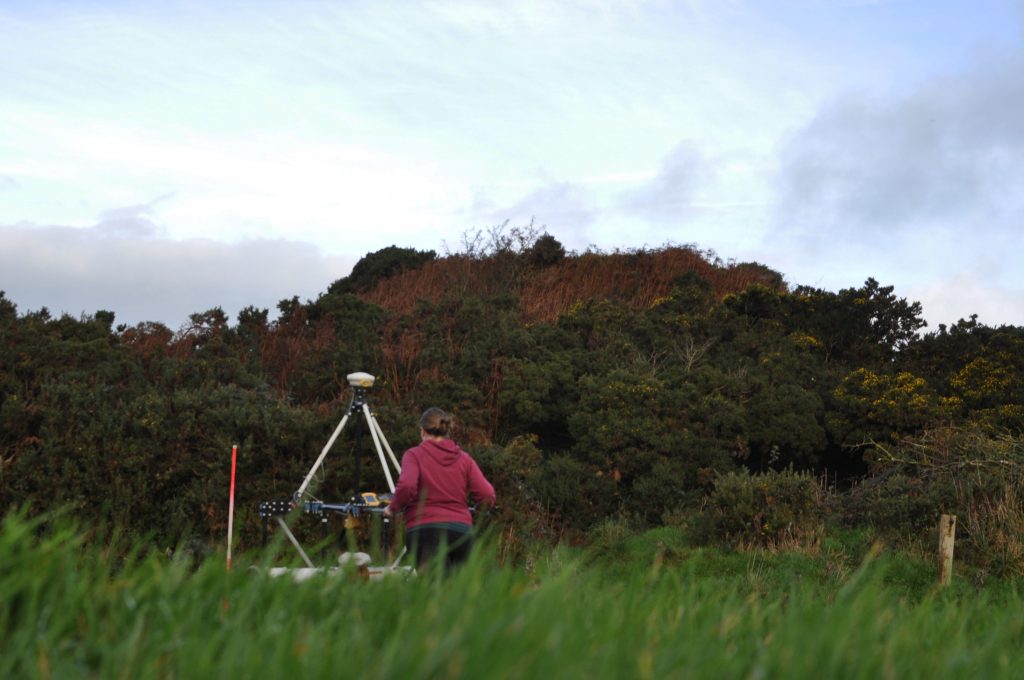 Ursula surveying with the EM cart in front of the motte (Photo: C. Hogan)
Acknowledgements to the landowner Tom for allowing us access to his lands for the survey.
The survey was commissioned by Abarta Heritage, on behalf of the Kilfinnane Community Council, as part of the 'Adopt A Monument' Scheme being administered by the Heritage Council and Abarta Heritage.